Overview of Services
The Mission of the Stem Cell Core is to provide research grade induced pluripotent stem cells (iPSCs) and other relevant iPSC-derived cell types to investigators, and to facilitate the generation of clinical quality cells for cell therapy.
iPSC technology is on the cutting edge of modern medical science, generating individualized stem cell therapies from mature cells, such as skin, to provide patient specific progenitor cells for directed repair of damaged tissues. iPSCs can differentiate to all cell types in the body including cardiomyocytes for heart damage, hepatocytes for liver damage, keratinocytes for skin repair, dopaminergic neurons for Parkinson's disease, alveolar type II cells for respiratory patients, and pancreatic insulin producing islet cells for diabetics. Moreover, iPSC technology has also applied in repairing genetic diseases by correcting the DNA sequences in the patient-specific-derived iPSC and differentiating the now healthy iPS cells to the desired cells, to be used to replace the abnormal cells. Additionally, iPSC technology is an ideal in vitro model to study disease pathogenesis and drug screening.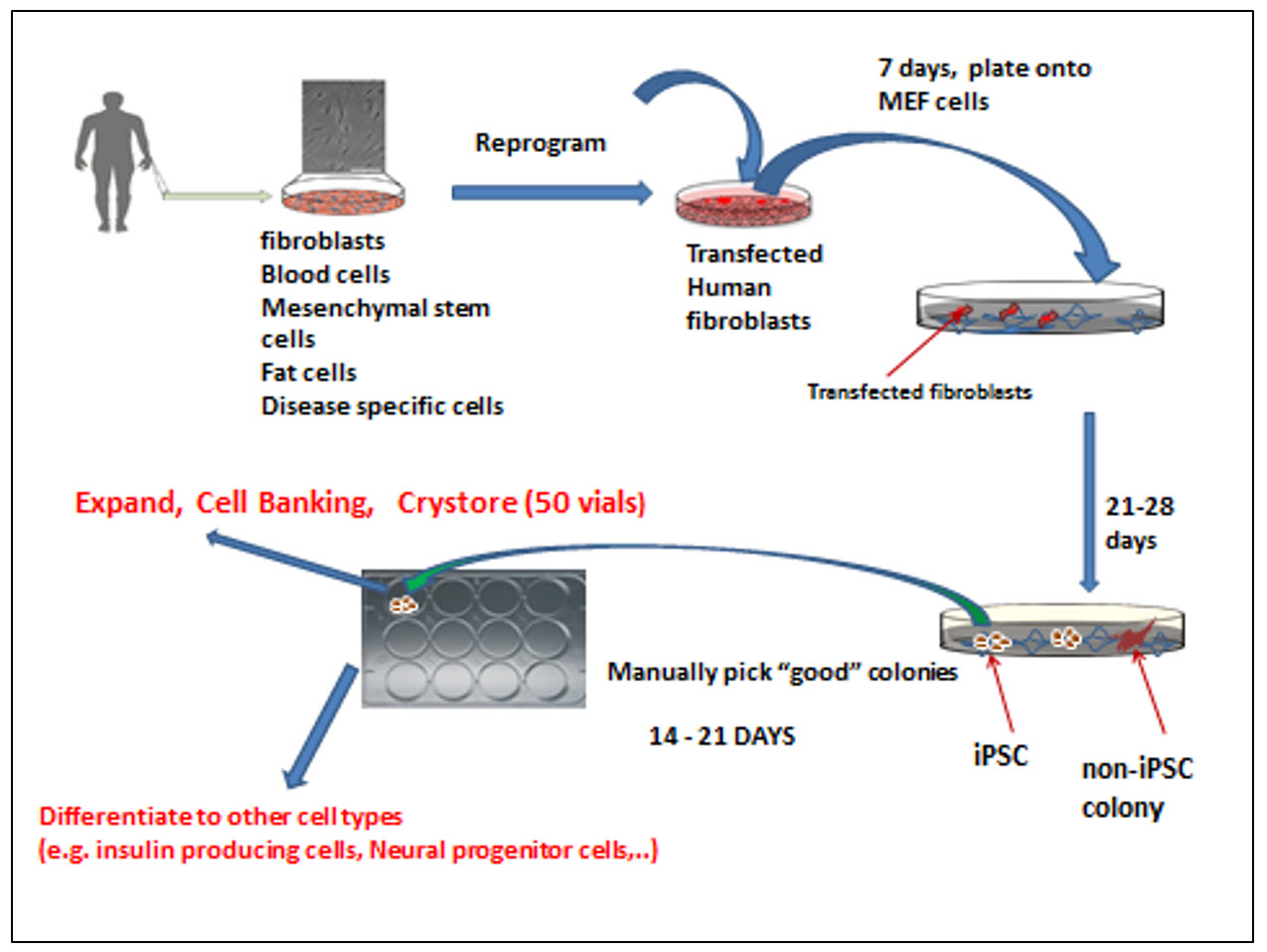 Schematic representation of iPSC reprograming.

Leadership
Garnett Mingledorff
Lab Specialist
Location and hours of operation
Hours
Location

Monday - Friday



8:30 am - 12 pm

1 pm - 5 pm

Pinn Hall 1071

Links and Resources
Search available services:

View: by category alphabetically
►

CytoSort Arrays and PCR Tubes for CellRaft AIR (1)
Name
Description
Price

Certified PCR strip tubes for CellRaft AIR with caps

These PCR strip tubes have been certified to be compatible with the CellRaft AIR system, use of other tubes may risk damaging the glass wand. Price is for a box of 125 strip tubes plus caps.

Internal

$115.00 each